16 May 2023, Bau: In a significant development for the region's transportation infrastructure, the Minister of Entrepreneur Development and Cooperatives, Datuk Ewon Benedick, inaugurated the pioneering Petronas ROVR Portable Container System (PCS) gas station on Tuesday. This ground-breaking initiative, located at the Bau Palm Oil Mill (BAPOM) junction, is owned and managed by Koperasi Permodalan Salcra Sarawak Berhad (KPSSB).
The launch ceremony commenced with a warm welcome from Mr. Dabrin Peter Kini, Chairman of KPSSB. In his opening remarks, Mr. Dabrin reminisced about the cooperative's humble beginnings, starting with simple tasks like grass cutting in SALCRA's estates. He proudly shared how KPSSB has evolved, diversifying into various businesses, such as selling palm shells as a renewable energy source, which enabled them to distribute high dividends of up to 15% to cooperative members in 2021. He emphasized the strategic placement of the PCS at the BAPOM junction, catering to the needs of commuters traveling between Bau and Lundu, as well as those transporting fresh fruit bunches to BAPOM.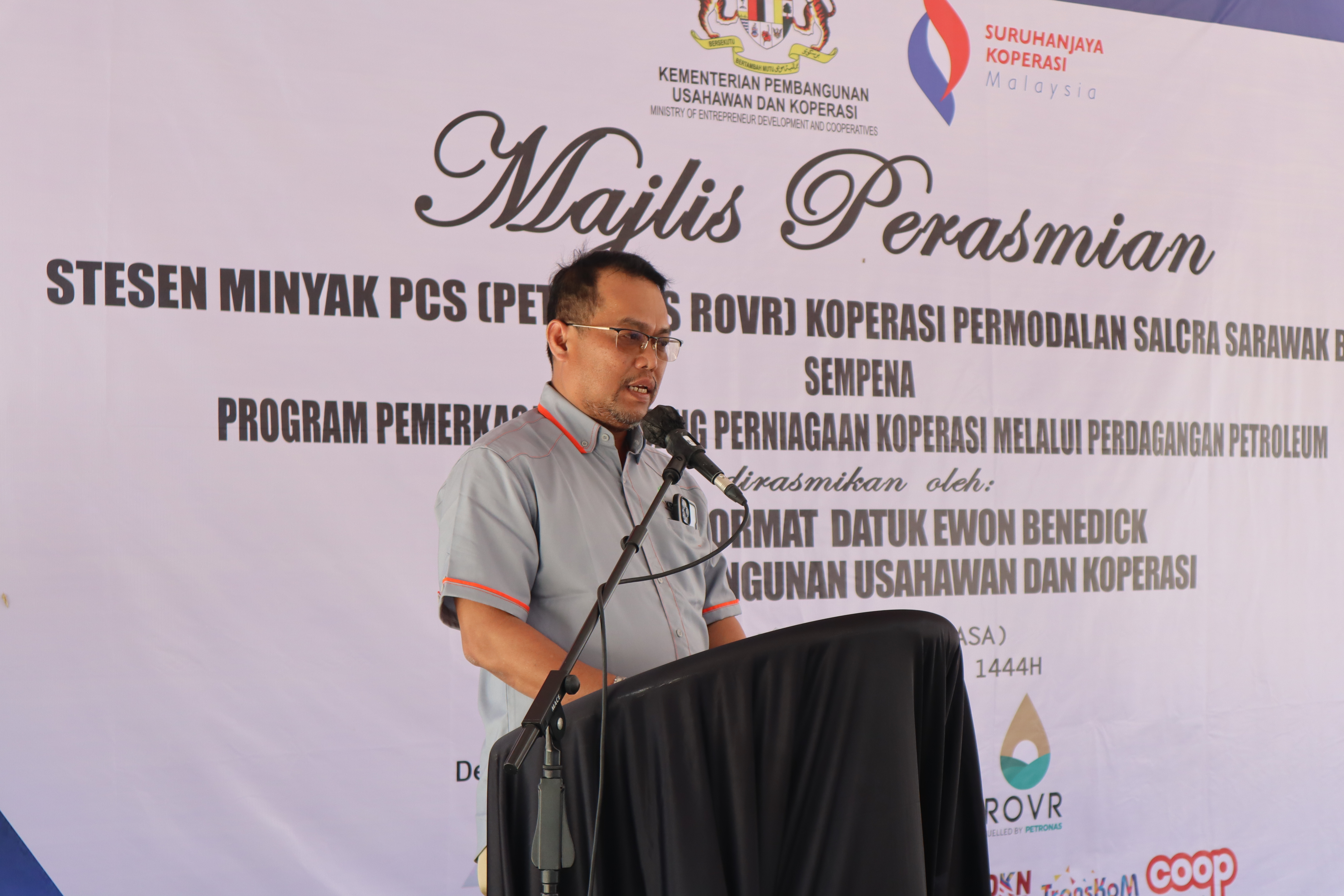 The Petronas ROVR PCS marks a significant step forward in ensuring accessibility and sustainability in the region. At present, the gas station supplies RON 95 petrol, providing a convenient refuelling option for motorists. Mr. Dabrin expressed his hopes for Petronas to consider expanding the PCS's offerings to include diesel in the near future. He highlighted the growing number of 4x4 vehicles utilizing the Bau-Lundu road, underlining the necessity for a reliable diesel supply to cater to the needs of the community.
The launch event garnered significant attention from local residents, stakeholders, and government officials, all of whom recognized the Petronas ROVR PCS as a game-changer in the transportation landscape. The portable nature of the gas station allows for strategic placement in remote areas, providing fuel access to communities that were previously underserved. This innovative approach aligns with the government's vision of promoting inclusivity and economic growth.
Minister, Datuk Ewon Benedick, lauded the efforts of KPSSB and Petronas in establishing the first ROVR PCS in Sarawak. He highlighted the importance of such initiatives in fostering economic growth, enhancing transportation networks, and promoting green practices. The Minister reaffirmed the government's commitment to supporting entrepreneurship, cooperatives, and economic development in the region.
The launch of the Petronas ROVR PCS at BAPOM junction signifies a remarkable milestone in the quest for accessible and sustainable fuel solutions. As the community looks forward to the expanded offerings and future developments of the gas station, this achievement underscores the collective efforts towards building a more connected and economically prosperous Sarawak.
Also present during the occasion Mas Gading MP Mordi Bimol; SALCRA Deputy General Manager, Tuan Sikin Sentok; Domestic Trade and Cost of Living (KPDN) Sarawak director Matthew Barin and KPSSB Board of Directors KPSSB.
By Priscilla Grace Poul