17 April 2023, Samarahan: SALCRA celebrated a momentous occasion - the 10th anniversary of its Auxiliary Police force. The celebration, held at SALCRA's headquarters in Sarawak, saw the attendance of forty six (46) Auxiliary Polices (APs) from all across SALCRA operations in Sarawak, along with one police officer, Inspector Hillary Anchang who stood in line formation. The ceremony was officiated by SALCRA Deputy General Manager, Mr. Sikin Sentok, who emphasized the crucial role played by APs in safeguarding SALCRA's operations and assets.
DSP Cannedy Ijau, Chief Security Officer gave a welcoming speech thanking the dedicated and hardworking individuals; the Auxiliary Police force has grown up to one hundred and seventeen (117) personnel as of today, and flourished in the past ten years, making SALCRA environment safer and stronger. DSP Cannedy was honored to have them on the team. As they celebrate the milestone anniversary, they reflected on their achievements and looked forward to the future with hope and optimism. DSP Cannedy urged everyone to continue working together, building on their successes, and making the organization a place where everyone feels safe, secure, and valued.
Mr. Sikin Sentok's opening speech during the 10th anniversary celebration of SALCRA's APs emphasized the importance of discipline, knowledge, and bravery among the APs. He also emphasized the significance of upholding integrity in character, which should be maintained at all times. As SALCRA expands its operations towards the north of Sarawak, Mr. Sikin Sentok expects the APs unit to continue serving with the same level of dedication and commitment. In line with this, the organisation plans to expand its APs unit to meet the growing demands of its expanding operations. The Deputy General Manager's remarks underscored the critical role played by the APs unit in keeping SALCRA's operations and assets safe, and the organisation's commitment to supporting its personnel through continuous training and development opportunities.
The ceremony continued with a pinning ceremony for four officers who were promoted from Corporals to Sergeants and a graduation ceremony for 14 APs who completed their training.
Figure 1: Sgt. Michael Nyabong
Figure 2: Sgt. Albert Baki anak Kaya
Figure 3: Sgt. Nyuak anak Gura
Figure 4: Sgt. Michael Anjong
Mr Sikin Sentok handed over certificates of completion training to 12 officers who have successfully completed their training at PULAPOL Kuching as Auxiliary Police, as follows:
| | |
| --- | --- |
| 1. AMPAK AK JOHNNY | 2. AZLAN BIN AHMAD |
| 3. DANA AK ROBIN | 4. GUSTIN AK BUJANG |
| 5. JOHANES AK LIUM | 6. LIPA AK AMBI |
| 7. LUGOM AK ASOK | 8. LUNSA AK MEJANG |
| 9. MULLA AK DENNIS | 10. NAIN AK LANGGONG |
| 11. JASON PRIESTLY AK USEN | 12. RODOL MARIUS |
The celebration ended with a feast shared by the APs and the Management Team, with live band performances from APs themselves.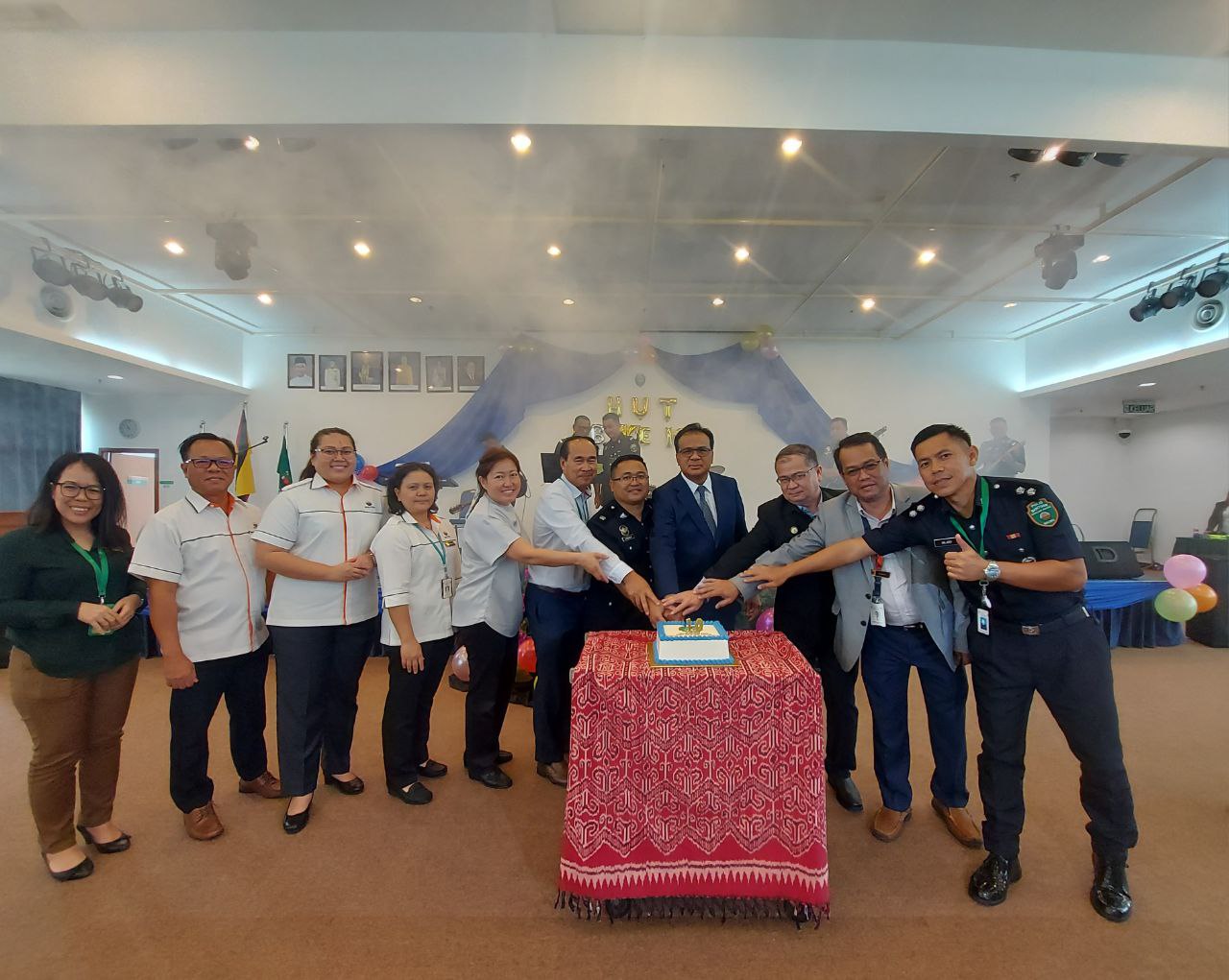 The 10th anniversary of the SALCRA Auxiliary Police celebration showcases the dedication and commitment of the APs in serving their community. With plans to expand their force, the APs will continue to play a vital role in ensuring the safety of SALCRA's operations and assets. Also present during the occasion, SALCRA Management Team and senior officers.
By Priscilla Grace Poul